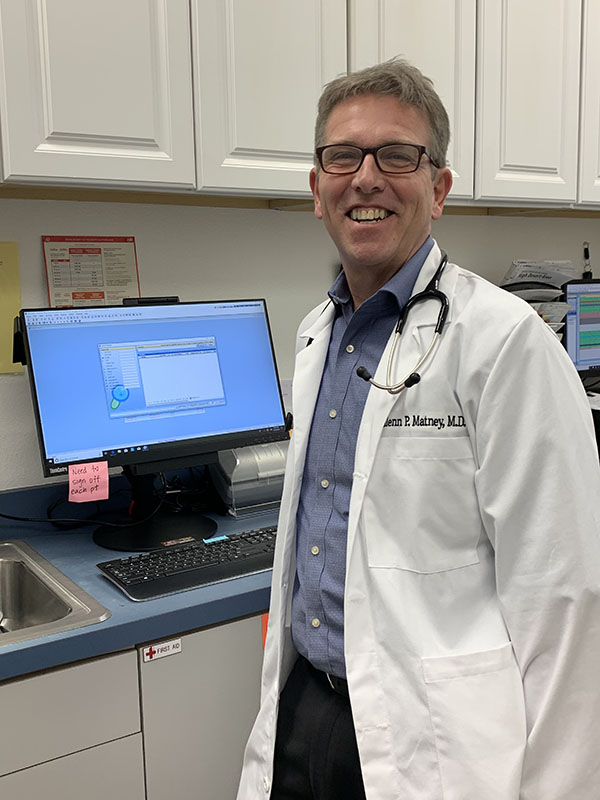 Message From Dr. Matney
I am very grateful to this community for the privilege and opportunity to have been entrusted with the healthcare of tens of thousands of High Desert children over the many years since I first started my practice in 1992. I have a great staff that I love working with, who have all been with me a long time– so long in fact, that we now get many "second generation" patients being brought in by moms and dads who used to be our patients when they were kids themselves. That sometimes makes us feel a little old, but it is very rewarding. We all take great satisfaction and pride in the high level of professional and efficient medical care that we are able to provide to so many people, while still being able to maintain a personalized and caring extra-mile service for our great patients and their families.
I always wanted to become a doctor from the time I was about five years old, probably because I had older siblings that were already nurses and doctors who I looked up to as role models. I did well in school, especially in science, and I was able to achieve that goal. When I got to medical school, I found taking care of babies and children much more interesting and far more rewarding than working with adult patients, and pediatrics was simply a much better fit for my personality. At heart, I am basically a pretty fun-loving and easy-going person, and when you deal with kids, you don't get to take yourself too seriously for too long.
In the age of the internet and social media, there is far more "opinion" out there than science. Dr. Google is full of paid and often deceptive stealth advertising, and every anonymous stranger on Facebook and Instagram wants you to know how much smarter and better they are than you, and how you are probably doing something wrong. Young parents get overwhelmed and confused.
In my practice, I try to keep the focus on what is truly important, and to help parents separate fact from fiction. I believe in using an educational and motivational approach to help each parent reach their own healthy conclusions about what is best for their personal family's health.
The most important doctrine in medicine is "First, do no harm" and all babies and children must be protected from abuse and neglect, as well as medical quackery and incompetence. On the other hand, many questions about caring for and raising children don't always have to conform to "one-size-fits-all" solutions.
My medical philosophy comes out of my scientific background and training, so I believe in sticking strictly to the scientific method when I approach any problem or recommend any treatment. However, I am happy to report that the "art of medicine" is still a very real thing, and it is critically important. It takes training and experience and even some occasional use of trial and error to master an art form, and I know I will have to keep working at it the rest of my career.
Dr. Matney's Education & Professional Qualifications
Bachelor of Science in Chemistry
Pacific Union College, Angwin California, 1985
Medical Degree
Loma Linda University School of Medicine, Loma Linda, CA, 1989
Pediatric Residency
Loma Linda University Medical Center Children's Hospital, 1989-1992
Dr. Matney's Three Board Certifications
American Board of Pediatrics, 1992
American Board of Addiction Medicine, 2014
American Board of Prevention Medicine, in Addiction Medicine, 2018
Active Member of Medical Staff at Two Local Hospitals
Victor Valley Global Medical Center, Victorville California, since 1992
Professional Memberships
American Society of Addiction Medicine
California Society of Addiction Medicine
Owner & Medical Director:
First Step Recovery Center (Accredited Outpatient Drug and Alcohol Treatment Center in Victorville California)
Former Member of Medical Staff at Local Hospitals
St. Mary Medical Center, Apple Valley California, since 1992